The Point of Infinity boasts of TWO magnificent LOG CABINS,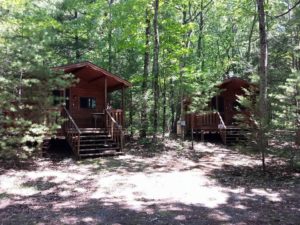 with bedroom (two bunk beds), and living room with a queen-sized bed, desk/chair, and very spacious outdoor porch, with more chairs. A picnic table and fire pit are close by for cooking or just enjoying the warmth.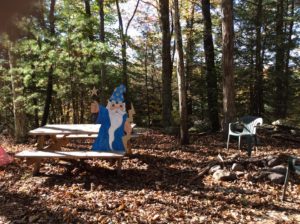 These cabins are set back, up a small hill, in back of the Main House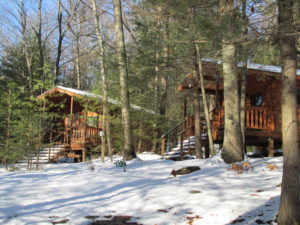 and bathhouses for seclusion and quiet, yet offering many paths/trials for your mindfulness walks, or even communing with Mother nature.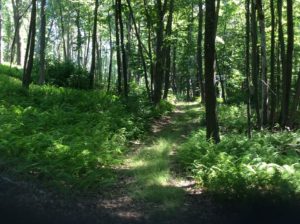 They are VERY popular with Airbnb folks who have given us raving reviews for our rustic environment and simplified living,
Please enjoy the photos below.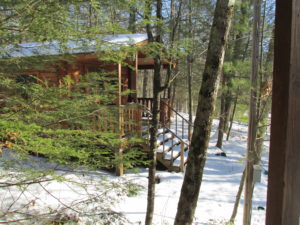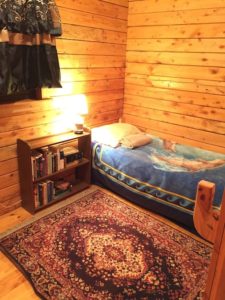 In addition to lodging in either the Lodge or two cabins, our very own Chef Harvey
offers three FOOD options: B&B; or, D&D; or both B&B plus D&D:
B&B (Bed and Breakfast) Option: our chef Harvey buys, prepares, cooks, and cleans up, in the Lodge kitchen/eating quarters. $6/person
D&D (Dinner and Drumming), in the Lodge kitchen/eating quarters. $12/person
Both B&B AND D&D, in the Lodge kitchen/eating quarters. $15/person
We just need to be informed of your desires beforehand. 845-647-3625.