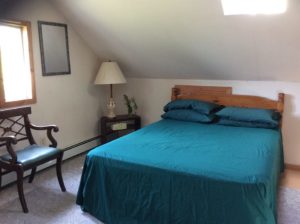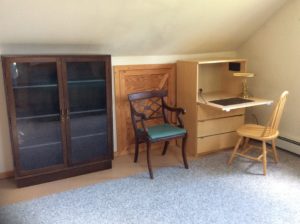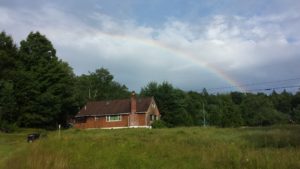 The rustic lodge-like Main House is one of our proud facilities. It is a two-leveled 2,000 square foot building with an excellent layout. The ground floor has a nice kitchen, with propane stove (no need to fear loss of power), and plenty of shelf space. There are two refrigerators for community use, and a small wood stove close by in the small eating area, making for warm intimacy.
A large bathroom, with commercial washer/dryer delights the community members.
A much larger dinning room, with a lengthy eating table can sit about 15 people, with mirrors all around, opening up the whole area to light and outside views.
Another wood stove (quite large) graces the living room which is connected to the dinning area, making for much spaciousness. Many chairs allow warm intimate gatherings to take place, along with many drums for creative drumming circles. Both rooms are adorned with "spiritually" oriented hangings.
Next is a half-bathroom, necessary when groups are there.
Followed by a "porch" area which serves as a creative space for Paul, our Manager/Caretaker
Then the "computer/office" room for Ken.
UPSTAIRS one will find THREE bedrooms, all three with skylights, and two "cubby bed areas" for overnight guests or overflow from events at the Point. TWO ROOMY SKYLIGHTED BEDROOMS ARE AVAILABLE. PLEASE INQUIRE. CO-HOUSING/CO-LIVING!!
We try to make all this space a"lived-in" space, welcoming all who visit or stay over for whatever reason.
For BOOKINGS and info: 845-358-6448; Or, zenpollinger@gmail.com
AND try: https://www.airbnb.com/rooms/42995367